Measuring Your Sighthound
Thank you for considering Royal Hound to cover one of your most precious family members. As a dedicated and long-time owner of an Iggy we understand that getting the right fit makes all the difference. To make things easier we have provided you a guide to measure your sighthound so you can get a good fit on clothes.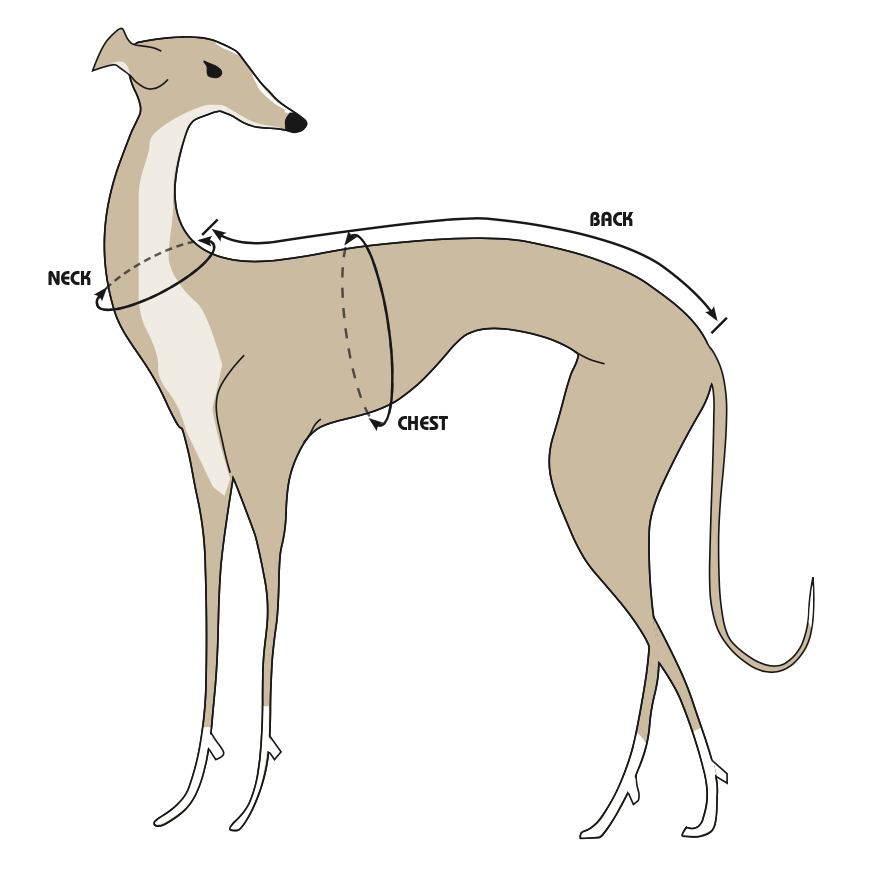 Measure again
As you are measuring a sighthound, and they can tend to arch their backs and contort in ways most other breed do not, we advise measuring a second time and even a third time. If you get different sizes it would be safest to take the largest set of measurements. As all our suits have stretch built into them, you should be able to get a good fit. Just keep in mind that getting the right size can be a bit of trial and error but once you have the right size all our suit styles should fit the same (or close to it).
Our standard sizes
Once you have your sizes, choose the closest size to your measurements. The majority of our suits come with stretch either because of the mix of material or the weave. Therefore if you are a borderline measurement you should choose the larger size. We can't guarantee this will always be the best option, however we will always offer an exchange if size is not right.
What is a good fit?
We often get this question. We have designed all our suits to fit snugly around the body shape of your sighthound. This is so a thin layer of air can be trapped between the suits and the skin, helping retain the warmth. We understand this is not always possible as, like people, sighthounds come in many different shapes and proportions. Here are some tips;
Good fit:
Snug fit around the body (suit looks smooth)
Leg length is such that the suits finishes around 2 to 3cm above the foot
There is a 1cm space at the base of the suit and the start of the tail
There are no creases or folds around the front chest area
The ribbing beneath the suit fits firmly against the skin and does not stick out
Wrong size fit:
The suit is longer than your sighthound and sticks out over the tail
You have to roll up the sleeves of your suit to avoid tripping
The ribbing beneath the suit is baggy and not a firm fit against the skin
There are creases around the front chest area
When sitting the suit often comes off
After a custom fit?
We do not offer custom fit options for our suits since the COVID Pandemic commenced due to reduced staffing. We will return to offering custom suits soon.