Pee Proofing
Pee Treatment Material (Embedded in to fleece) – Our Navy and Black fleece is bonded with treatment from the knitting mill. It is considered 'shower-proof'. This means it will repel a steady stream of water but will absorb water if it is left on the suit longer-term or the suit is immersed in water, or you rub the suit while wet while applying pressure. This is not permanent and will last around 30 to 50 washes or around 7 to 10 years.
Reduced stretch
The treated area of the suit has limited stretch when compared to our normal fleece. We would therefore recommend a slightly bigger size if the measurements of your sighthound are borderline between two sizes. Some hounds may not want to move in the suit if it is too tight, if this is the case it could mean getting a larger size or allowing them time to get used to the suit feel. You may also wish to wait for the suit material to soften, as over time it will soften slightly making it more comfortable for your sighthound.
If you have any doubts you can always return the suit for a refund if it is unworn.
** ** This treatment only covers the front legs and chest area.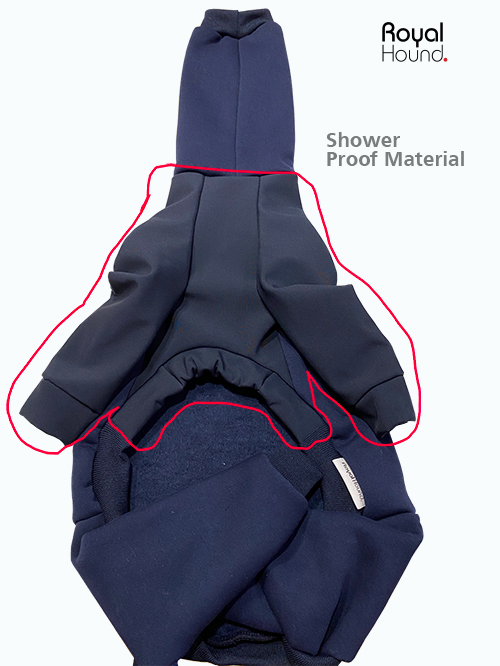 Shower-Proof Fleece
NEW to Royal Hound – We have recently discovered a fleece that is 'shower-proof'. It has taken us over 12 months to find the right kind of fabric. We believe we now have a good alternative to the spray on treatment.
This fleece will repel liquids in most circumstances, but if there is constant water exposure (placed underwater) it will soak up liquid. You can return the suit to it's shower-proof state by simply drying the suit, but only after it is completely dry. In regards to Pee from a Iggy/Whippet this material performs really well. It is restricted to our fleece products and the only colours at this stage are black and Ink (Navy). We are working on more colours, however for now it is only these 2 colours.
This treatment is not permanent and every time it is washed will loose some of its repellent abilities. We suggest you minimise washes by using paper towels to dab away any urine or liquid that remains on the suit.
Suit design – Italian Greyhound Clothing
The bonded treatment is a great idea, however it is not 100% perfect yet. So we have used our design skills to create a suit that can minimise the chance of urine even reaching the suit. This is what we have done;
Shorter legs – we have shortened the front legs of all our suits so they are not in the firing line. Is a good idea to minimise the chance of getting wet, without letting too much of the cold hit their body.
Higher chest area – we have reduced the chest cover to a minimum so that those that shoot on to the chest will not hit the suit. This is not 100% effective as without some chest area you compromise the fit and look.
Suits made without proper chest cover area should be avoided. They can not retain their structure and long-term fit. They absorb all the pee splatter and will smell very urine like promoting mold and bacteria. You would be better off with a raincoat cover on your Iggy or Whippet made of gore-text. It will be cold and uncomfortable on the skin, but it will protect them much better and is healthier longer-term than a bad fitting suit. Yuk!
Questions?
If you have any questions about our treatment or designs for pee protection, please email us directly, we would be more than happy to answer those questions.