We designed the Hound Pods using structural engineering principles to allow felted wool to stand over 1 meter tall.  However that meant shipping costs increased dramatically. Therefore as part of our design strategy we looked to reduce the cost of shipping so we could make the Pods more affordable. We were able to achieve this by designing the Hound Pods to fold so that shipping size can be reduced. As a result when you unpack your Hound Pod you will need to restore it to its original shape.
To restore your Hound Pod to its natural shape you can undertake the following steps.
Whats in the package
Hound Pod
Pillow case and inner pillow
A hound head (your choice of colour)
Instruction manual on restoring your Hound Pods shape.
Restoring your Hound Pods Shape

Step 1: Pushing Out The Creases
Your Hound Pod has been designed to fold. Once you remove it from the packaging the first step is to 
restore its basic shape.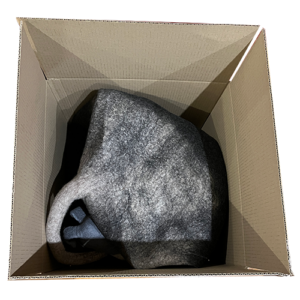 Using your hand push out the 
deformed areas of the Hound Pod from the inside. 
This will restore your Hound Pod to its basic shape. Make sure you 
push as many of the creases out in this step as you can. Run your hand around the inside forming the pod in to a tear drop shape, or as close as you can to a tear drop.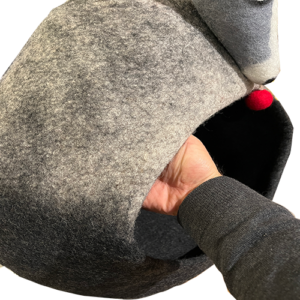 Step 2: Steaming The Pod Into a Smooth Shape
Now that your Hound pod has been restored to its basic shape, you will need a steam iron, set to steam and a thick towel. 
Fold the towel into a shape that you can place on the inside 
of the Hound Pod (as per the picture). It is important that you fold the towel 
thick enough to protect your hand from any steam should 
it come through the bed walls. Now moving around the pod place the iron on the outside side and the towel on the inside. Use the steam while pushing and smoothing the bed into its tear drop shape.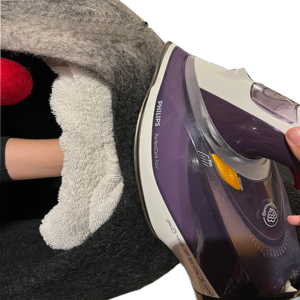 Step 3: Smoothing The Shape & Drying
Move around the bed with the iron and towel creating a smoother shape . Once you have the bed in the shape you 
want, allow the bed to dry and the shape will set into the 
original shape. You may need to iron the inside base flat, 
if so do that on an ironing board. You can continue to do this process on and off over a period of time (a few weeks) until you are happy with the shape.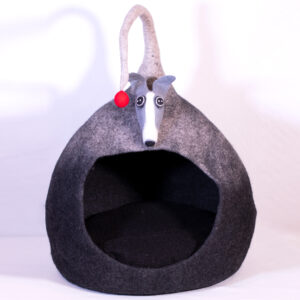 Important Product Warnings
Hound Pod is flammable, so please keep away from open fire or other hot heat sources.
Hound Pod is made from 100% Australian Wool.
Hound Pod material should not be consumed. If consumed visit your doctor or Veterinarian immediately.
Hound Pod Red Ball should not be tugged at or pulled. If swallowed it could cause choking.
Hound Pod should not be placed on high surfaces. They are only designed to be placed on flat ground.
Care of your Hound Pod
Your Hound Pod is made from 100% Australian Natural Wool. We have added chemical free dyes to achieve the colour variations.  If your Hound Pod gets dirty you can clean it using a mild soap and damp cloth. The bed itself is not machine washable. The accompanying pillow is made from 100% polyester material and can be machine washed using a mild detergent washing with cold water only. It is important that you remove the inner pillow before washing. All our pillows have a zipper on the side stitching that can be opened to remove the inner pillow.
If any part of the Hound pod material is consumed by your dog you should seek veterinarian advice immediately. If any of the material is consumed by a person you should seek doctors advice immediately.
Questions
If you have any questions we would be happy to answer them. Please email us directly at information@royalhound.com.au.
Questions asked by other users:
.
Question
When I purchase a Hound Pod what do I get?
Answer
 A Hound Pod
 A pillow (the cover can be washed)
 A Hound Head matched to your dogs colouring (as close as possible)
 A thank you from our team.
Question
Should my Hound Pod be a perfect Tendril (tear drop) shape?
Answer
No.
Your Hound pod is a hand-made product and each Pod will be slightly different.  As the Pod is only made from 100% natural wool fibers it has no support structure, other than the unique shape we have engineered to stay upright. Using a household steam iron and towel to press out any imperfections can improve your Pod's shape, however they are designed to be slightly imperfect in shape.
Question
Can I place my Hound Pod in the washing machine?
Answer
No
. The best way to clean your Hound Pod is with some mild soap and a damp cloth.
Question
Can I wash the pillow cover?
Answer
Yes
. You can wash the pillow cover but you will need to make sure you remove the cover and take out the inner pillow first. This inner pillow should not be washed.
Question
Can I place a heat pack in the bed?
Answer
Yes
. You can place a heat pack in the bed, however we do not recommend any heat pack that can reach hot temperatures or is electric and could cause a fire if it malfunctions.
Question
What is the Hound Pod made of?
Answer
The Hound Pod is made from 100% Australian Natural Wool and chemical free dye. The pillow contained in the Hound Pod is made from 100% polyester material (outside) and soft filling for the inner pillow.
Question
Can I place the Hound Pod outside?
Answer
No.
The Hound Pod is not water-proof and will not last long if open to outside weather, like any dog bed designed for indoors only.
Question
Does the Hound Pod come with a base?
Answer
No.
However we are working on a base that will provide more stability and a further improvement in the aesthetics.